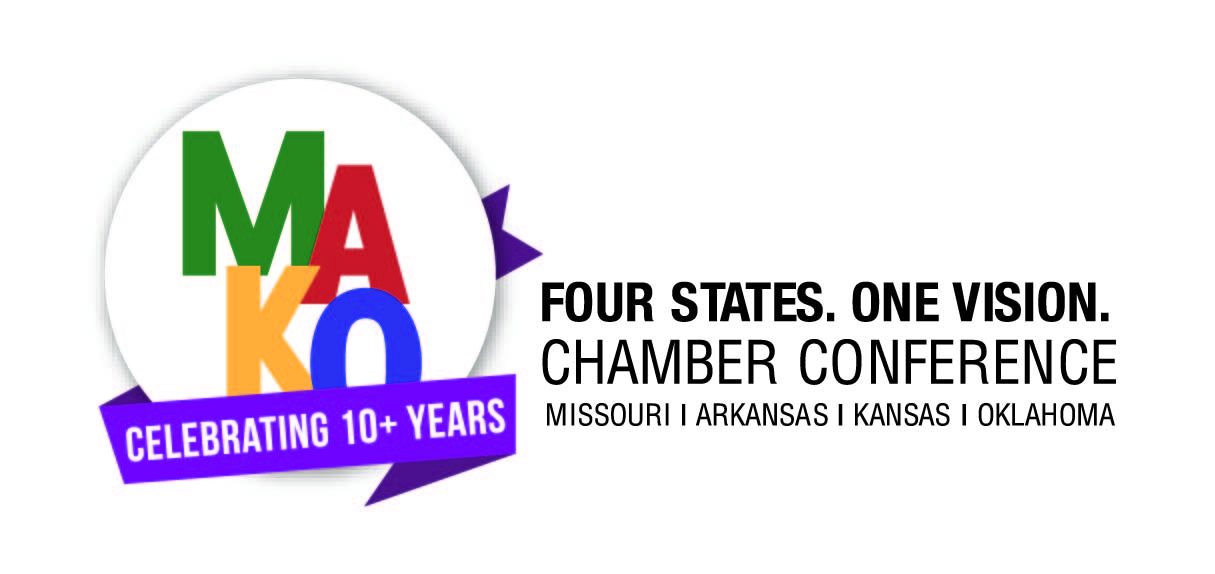 3 Keynote Presentations, 15 Breakout Sessions, Be Pro Be Proud Mobile Workshop
Sunday, April 24, 2022
1-6:00 p.m. | Exhibitor Set-up
3-6:00 p.m. | Registration Opens
3-6:00 p.m. | Hospitality Room Opens

3-6:00 p.m. | Be Pro Be Proud Mobile Workforce Workshop 
5:00 p.m. | Chamber Young Professional Reception | Hotel bar
6-8:00 p.m. | Fun-A-Palooza at Andy B's at Branson Landing
8:00 p.m. | Hospitality Room Opens
Monday, April 25, 2022
7:00 a.m. | Registration
7-8:30 a.m. | Breakfast

8:30 a.m. | Welcome to MAKO 2022
8:45 a.m. | Opening Keynote featuring Justin Patton
10:00 a.m. | Exhibitor Showcase & Break

10:30 a.m. | Breakout Sessions 1-3 

10:30 a.m. | Be Pro Be Proud Mobile Workshop
11:30 a.m. | Sponsor Showcase & Break

11:45 a.m. | Breakout Sessions 4-6

11:45 a.m. | Be Pro Be Proud Mobile Workshop
12:45 p.m. | Lunch

1:30 p.m. | Keynote fFeaturing Dave Adkisson

2:30 p.m. | Exhibitor Showcase & Break
3:00 p.m. | Breakout Session 7-9
3:00 p.m. | Be Pro Be Proud Mobile Workshop
4:30 p.m. | Reception & Exhibitor Showcase
6:00 p.m. | Dinner on Your Own
6:00 p.m. | Hospitality Room Opens
Tuesday,

April 26,  2022
7-8:30 a.m. | Coffee & Conversations (Continental Breakfast)
8:30 a.m.  | Exhibitor Showcase & Break
8:45 a.m.  | Breakout Sessions 10-12
9:45 a.m. | Exhibitor Showcase & Break
10:00 a.m. | Breakout Sessions 13-15
11:00 a.m. | Lunch
11:45 a.m. | Closing Keynote featuring Dale Wilshire
1:00 p.m. | Closing Remarks / Exhibitor Passport Prize Giveaways
1:30 p.m. | MAKO Board Meeting
Justin Patton
Justin Patton is an executive coach, leadership presence expert, and award-winning author who challenges leaders to use their presence to communicate with stronger trust.
Justin's background includes the following:
•  High school English teacher for five years
•  Managed the nationals training department for Anthem
•  Studied body language from a former FBI agent
•  Developed over 10,000 restaurant leaders from across the globe
•  Coached NCAA athletes and contestants in the Miss America and Miss USA pageants
Justin is currently a faculty member for the US Chamber of Commerce and a member of both the International Coach Federation and the National Speakers Association.
His leadership book, Bold New You, became the #1 Amazon best-seller in new releases for communication. In addition, it became a finalist in the National Indie Excellence Book Awards and then won the top award from the Next Generation Indie Book Awards and Indie Reader Discovery Awards.
Justin's engaging style, relatable storytelling, and insightful messages make him a sought-after keynote speaker. His programs will inspire you to reimagine who you are at your best and what is possible in your life.
 Read more about Justin at www.justinpatton.com.  
Dave Adkisson
A veteran chamber executive and former mayor, Dave Adkisson, CCE, served as the CEO of three chambers: his hometown chamber in Owensboro, KY; the metro Birmingham (AL) Regional Chamber and the Kentucky (state) Chamber.  On the national level, he served as the 2010 chairman of the board of the Association of Chamber of Commerce Executives (ACCE), was the 2014 chairman of the board of the Council of State Chambers (COSC), was a founder of the national State Chamber Policy Center, served six years on the board of the U. S. Chamber and served as the chairman of the U.S. Chamber's education policy committee.  He is a past chair of the ACCE Foundation.  Together, he spent more than 30 years in the chamber field.
Adkisson retired from the Kentucky Chamber of Commerce in 2019 after 15 years as president and CEO.  During his tenure the Chamber was routinely ranked as the top lobbying organization in Kentucky, tripled its budget, doubled its staff and was named the 2017 State Chamber of the Year.  In addition to achieving several landmark legislative victories, Adkisson created the Kentucky Chamber Workforce Center and the Leadership Institute for School Principals, a program which has invested more than $3 million in executive leadership training for school principals.
Earlier in his career, he was elected mayor of Owensboro, KY at age 34 and re-elected four years later without opposition.  He championed the creation of the RiverPark (performing arts) Center on the Owensboro riverfront, the Mid-America Airpark, a city-county workforce center and the 13-mile-long Greenbelt Park which was later named in his honor.  He was a co-founder of Leadership Kentucky and is a former chairman of the Kentucky Advocates for Higher Education.  He serves on the board of the Kentucky American Water Company.
Originally from Owensboro, Adkisson received his B.A. from Georgetown College, where he serves as the immediate past chairman of the board of trustees, and his masters from Harvard University.  He was the 2019 recipient of Leadership Kentucky's "Flame of Excellence" award and in 2020, was one of two recipients of ACCE's Life Member Award.  He and his wife, Bonnie, reside in Lexington, KY, along with their two children and three grandchildren.
More information at  www.chamberdave.com.  
Dale Wilsher
Dale Wilsher is an executive development coach, motivational speaker, and certified DISC personality trainer who helps professionals understand their individual purpose so they can engage in deeply meaningful work and relationships, and ultimately make their highest contribution. Through her authentic style, Dale has a knack for engaging an audience and teaching them a new way to think. Funny and insightful, Dale weaves personal and professional stories into rich content, provides practical tools to make change happen, and leaves everyone in her audience with a renewed sense of energy and purpose. She's the author of the award-winning personality book and creator of the digital course, Career Kickstart: 30 Days to your Ideal Job.You can find her living and loving her real life in Boulder, Colorado and at www.YourAuthenticPersonality.com.
Breakout Session Presenters